Reviews
Apna Sapna Money Money (2006) – Yet another Zero Logic comic caper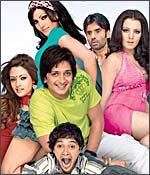 Last year, Sangeeth Sivan (director) said Kya Kool Hain Hum and earned more money than ace filmmakers under Ekta Kapoor's production. This time Sivan is saying 'Apna Sapana Money Money' hoping to earn much more under Mr. Subash Ghai's production. As the title itself suggests, ASMM is zero logic – David Dhawan style comedy, not made for serious movie critics. If you want to enjoy this movie then leave your thinking caps at home.
Trailer/Promo/Teaser

Cast: Ritesh, Shreyas, Riya, Celina, Koena, Jackie, Chunky, Rajpal
Rating:
Apna Sapna Money Money has reminsce of classic comedy Victoria 203, starring Ashok Kumar & Pran, about the precious diamonds being hidden in a horse carriage [Victoria]. This movie is also about smuggled diamonds, money & love but in hilarious form. 11 characters and a dog all after that hidden daimonds.
A wannabe don with a Sarkar hangover tries to do a Big B. A bunch of Nepali gang lords, dressed as a cross between a pathan and a dacoit, speak in Nepali. A Goan gal speaks in the 'humko humara mummy ne bola' language peculiar to Bollywood. A bumbling police inspector plucks out food from his greasy teeth. It gets worse: A curious camera reveals a bored buffalo's tense butt in full glory. And then, a live telecast of his fresh potty deliveries. But that's not all: Later, a guy tries to find a lost address in the dry feces.
Storyline
As mentioned in the preview, the movie revolves around a bunch of madcap characters that eat, drink, sleep and worship money. There is Carlos (a thoroughly under-utilised Jackie Shroff), a bankrupt underworld chieftain from Bangkok, anticipating the arrival of his sexy girl Friday, Sania (Celina Jaitley) with his precious bag of diamonds. Inspector Namane (Suniel Shetty) is on her trail but gets tricked each and every time.
Back in Mumbai, you have a forbidden romance brewing between car mechanic Arjun (Shreyas Talpade) and Pandit Shastri's (Anupam Kher, in an extension of his role in Kuch Kuch Hota Hai) holier-than-thou daughter, Shivani (Riya Sen). To give his love story a happy ending, Arjun seeks the assistance of his cousin, Kishen (Ritesh Deshmukh) a colourful rogue with a knack for trouble (a Nepali gang headed by Chunky Pandey is after his blood) and a penchant for interesting getups.
During one such avatar, Kishen pretends to be Arjun's aunty, Sania and finds an instant lovestruck admirer in Shastri. Kishen, the male version, hits it off with the feisty Julie (Koena Mitra). Meanwhile, he's unknowingly bearing the bag containing diamonds. The name Sania only adds to the whole confusion.
The caper rests hugely on Ritesh Deshmukh's shoulders to rake in the laughs. And the actor doesn't let anyone down. His co-star Shreyas Talpade is confined to playing the conventional boy-next-door, and doesn't get to do any fun bits. As expected, Celina, Koena and Riya merely ooze oomph and add glamour to the proceedings. To sum up, APNA SAPNA MONEY MONEY is a decent time pass flick that delivers what it promises: Tadka [glamour], jhatka [skin show], masti [jokes], mazaak [laughter]…
One liners, situational comedies and Ristesh Deshmukh makes this movie complete Joyride !