Golden Era
Rajesh Khanna (Part I) – The First Superstar of Bollywood
No rise or fall of a star has been as quite as dramatic or spectacular as that of Rajesh Khanna. From 1969 to 1972, the Rajesh Khanna phenomenon swept Bollywood off its feet and the hysteria he generated was unlike anything seen before and after.
Rajesh Khanna had 15 consecutive hits between 1969 to 1972, which is still an unbreakable record in Indian film
From evoking mass-hysteria, the once upon a time superstar is slipping into an invisible existence only to re-surface in projects that degrade him and everything he stood for.
Born as Jatin Khanna on 29 December 1942 in Amritsar, Rajesh Khanna was an adopted son by an affulent family. After a stint in theatre, Rajesh Khanna joined the film industry after winning an All India Talent Contest through a nation-wide selection procedure. He made his film debut in the 1966 film Aakhri khat, followed by Raaz opposite heroine Babita, but neither was a major success. It is said, he was the only struggling actor during those days who would come in his ówn car asking for work to film makers.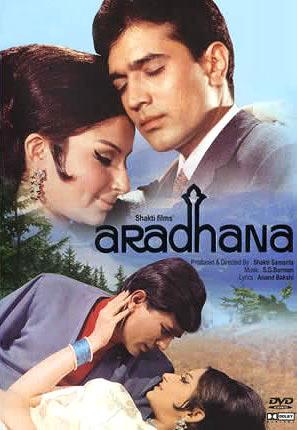 His earlier films, in spite of adequate performances by him, however did nothing for him till Aradhana (1969) came along. Released in November 1969, Aradhana made Rajesh Khanna a superstar. In the double role of a father and son, both air force pilots, Khanna cut a most dashing figure in uniform. Despite its heroine-centric theme, Khanna hold his own effortlessly with suave and charming persona essaying both father and son. His mannerisms – the crinkling of his eyes and shake of the head asking the heroine to come to him found instant favour with the audience and aided by such SD Burman evergreen ditties as Mere Sapnon ki Rani, Kora Kaagaz Tha Yeh Man Mera, Roop Tera Mastana, Gun Guna Rahe Hain Bhanwaren and Baaghon Mein Bahar Hai, Aradhana was a golden jubilee hit. Barely a short while later in December the same year, Raj Khosla's Do Raaste, in which he played the youngest brother in a joint family, also opened to full houses and also went on to be a golden jubilee hit. What's more in Bombay, the two films had their main theatres right across the road from one another, Aradhana at Opera House and Do Raaste at Roxy!
That year he also tasted success in Bandhan, Doli and one of his finest films, Ittefaq. Thereafter till 1972, it looked like Rajesh Khanna could do no wrong. Film after film swept the box-office. But there was more to him than just his mannerisms as he built the image of a vulnerable, gentle romantic. In films like Khamoshi (1969), Safar (1970) and Anand (1970), he came up with sensitive performances straight from the heart. Anand saw perhaps his greatest ever performance as a man stricken with cancer but wanting to live life to the fullest before he dies. In Anand, Rajesh Khanna more than justified Frank Capra's immortal observation, "Tragedy is not when actors cry. Tragedy is when audiences cry." Indeed at the end of Anand as Amitabh sits by Khanna's dead body and as the tape recorder plays Khanna's voice, you cannot help but cry along with Amitabh.
As Khanna went from strength to strength, even his guest appearance in Andaaz (1971) generated more hysteria than the hero of the film Shammi Kapoor. In fact symbolically this represented the end of the Shammi Kapoor era and the peak of the Rajesh Khanna era. Though Khanna worked with top heroines of the day like Waheeda Rehman, Nanda, Mala Sinha, Tanuja and Hema Malini, his most popular pairings were with Sharmila Tagore and Mumtaz. In 1973, the BBC documentary series Man Alive aired an episode about Rajesh Khanna, called "Bombay Superstar."
Rajesh Khanna formed a brilliant combination with director Shakti Samanta, Music Director RD Burman and 'his voice', singer Kishore Kumar resulting in such films like Kati Patang (1970) and Amar Prem (1971). With Hrishikesh Mukherjee, he gave fine performances in Bawarchi (1972) as a Jack of all Trades cook and Namak Haram (1973) ably carrying both films on his shoulders. The same year, 1973, also saw him score with a strong and relatively more realistic performance in Avishkaar, Basu Bhattacharya's perceptive study of a marriage gone sour.
During the peak of his career he would be mobbed during public appearances. Especially those of the fairer sex, from writing letters in blood to smothering his four-wheeler with kisses to screaming his name in passion to marrying his photograph, you name it, they did it.
A seemingly-invincible Kaka, as he was fondly addressed by the industrywallahs, reciprocated with terrific hits like Sachaa Jhutha, Aan Milo Sajna, Mehboob Ki Mehndi, Haathi Mere Saathi, Mere Jeevan Saathi, Kati Patang, Daag and Dushman. Rajesh Khanna had 15 consecutive hits between 1969 to 1972, which is still an unbreakable record in Indian film. The word 'Superstar' was used for the first time in Indian Cinema for Rajesh Khanna.
[to be continued…]
Tagged Rajesh Khanna