Bollywood Buzz
Sex Sells: The Dirty Picture Exclusive Teaser
I think I have never enjoyed being a woman more than in Dirty Picture," says Vidya Balan, who plays the role of the sex symbol Silk Smitha in the film. Naseeruddin Shah, Emraan Hashmi and Tusshar Kapoor play the three men in her life.
At the launch of The Dirty Picture trailer at Gaiety, Bandra, a suburban theatre in Mumbai, Vidya was asked how difficult it was to handle three men from different age groups off-screen and on. "Sone pe suhagaa, ek se mera kya hoga," (It's even better, one man is not enough for me) she replied laughing.
"I have worked with Naseersaab before and it is an honour working with him. Now I don't get that nervous in front of him. He is so encouraging without being blatant about it," she said.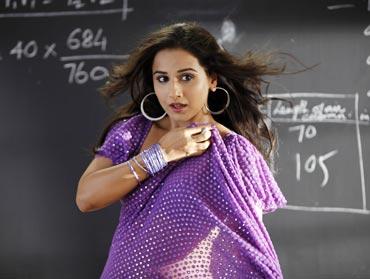 She wasn't sure what it would be like working with Emraan, a man of few words. "I did wonder what working with Emraan would be like, but it turned out to be great fun. Initially, I thought he doesn't talk much or laugh much, but now it's different. After knowing him, I know his mouth never shuts."
Asked about her comfort level while playing Silk Smitha, she said, "I knew I was in very able hands and I also knew that it would not look vulgar and sleazy, I completely trusted the team."
Wouldn't people think she was a soft porn artist after this film? "I am an actor and I am just playing the character of Silk and I don't think that tag would get attached to me, but I hope that it will add shade to me as an actor," she replied.
Tagged Emraan Hashmi, Naseeruddin Shah, Vidya Balan
You May Also Like